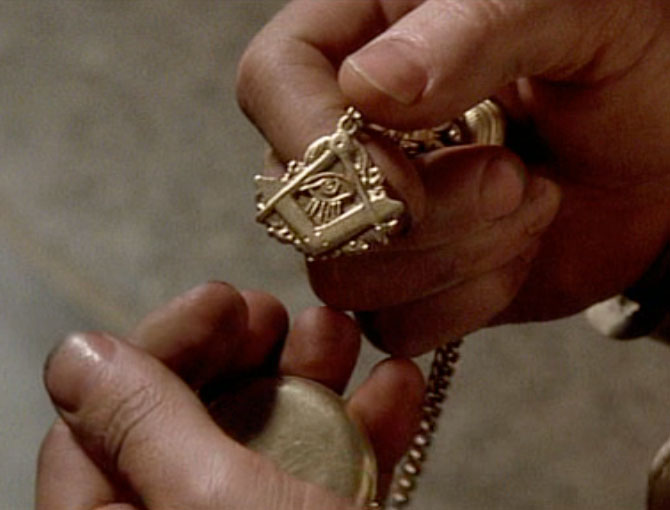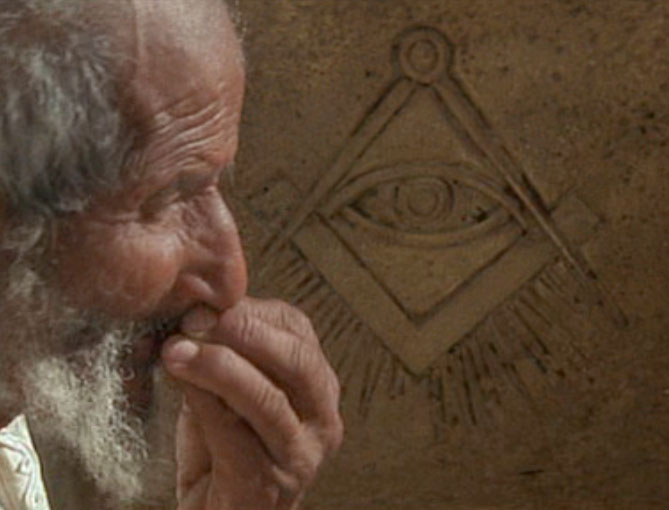 Pelicula: "Mississipi Burning"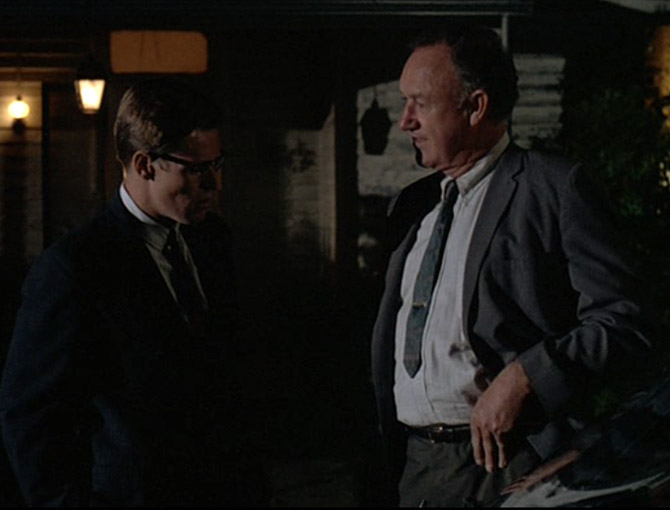 Pelicula: "Gallop"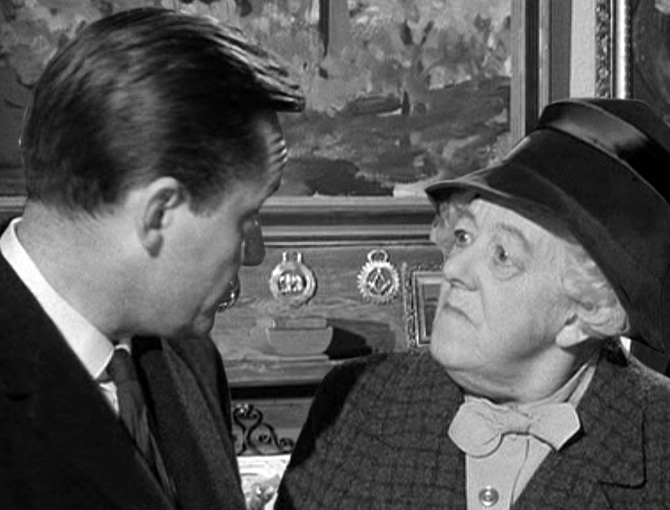 Gullop, parece ser el salon o entrada a una logia. No necesariamente al taller propio.

Pelicula: "Murder by Decree"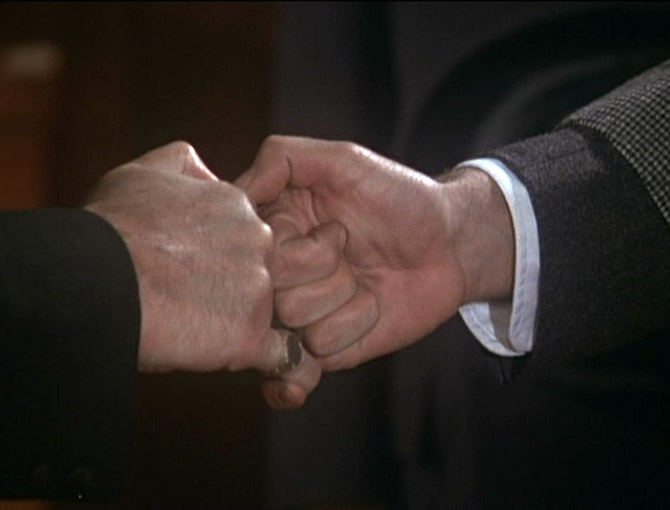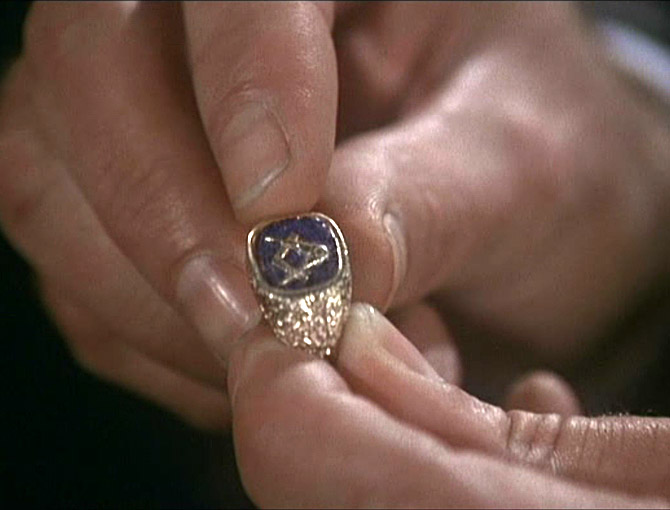 Pelicula: "Nashville"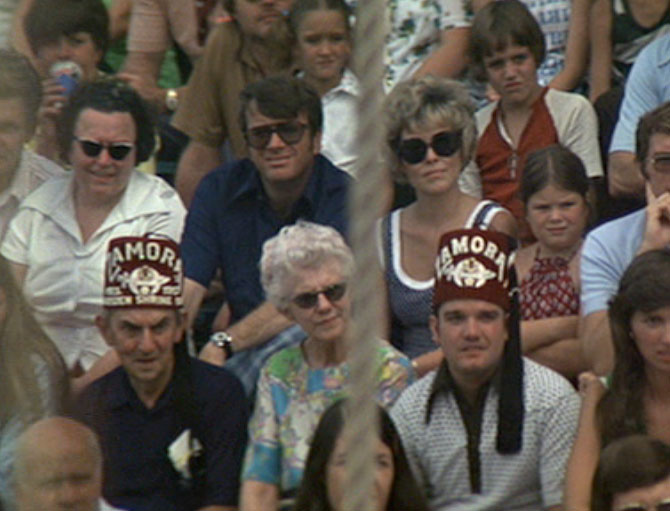 Pelicula: "National Treasure"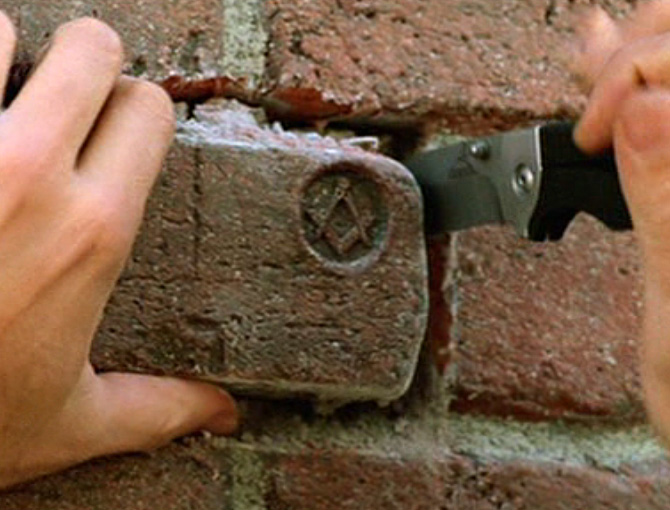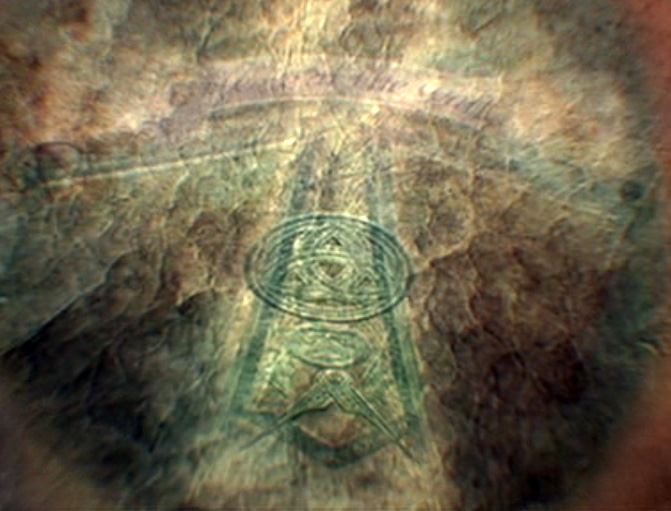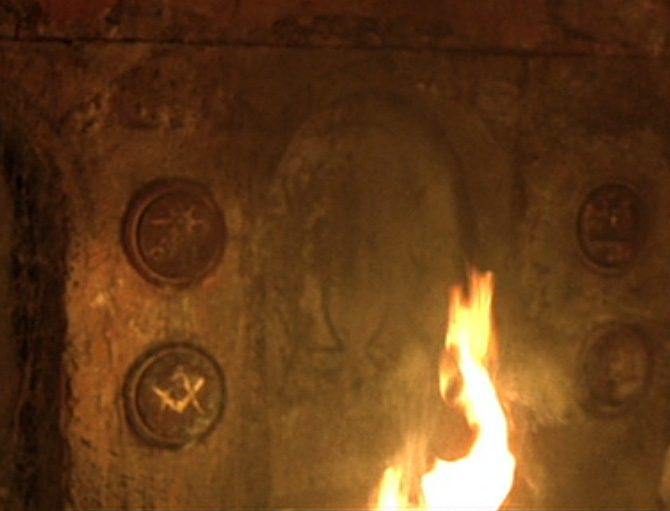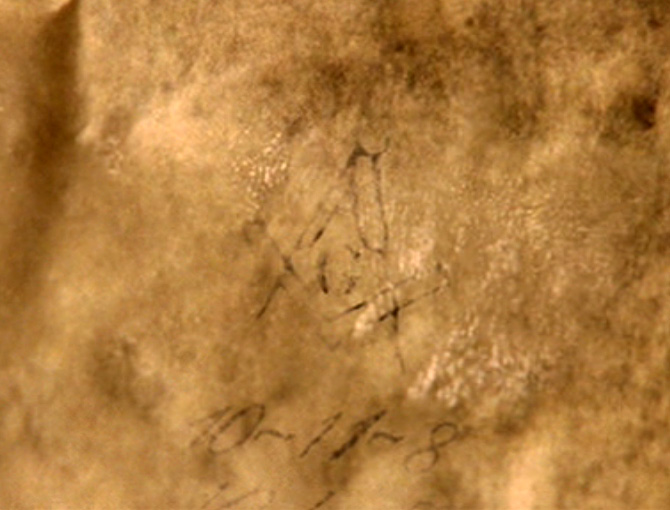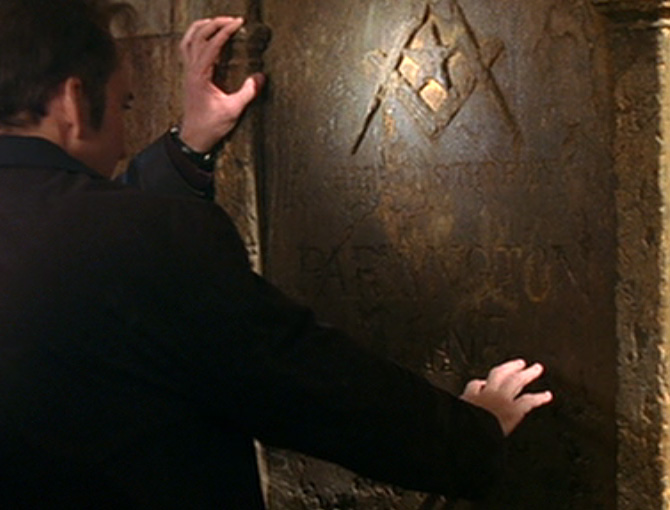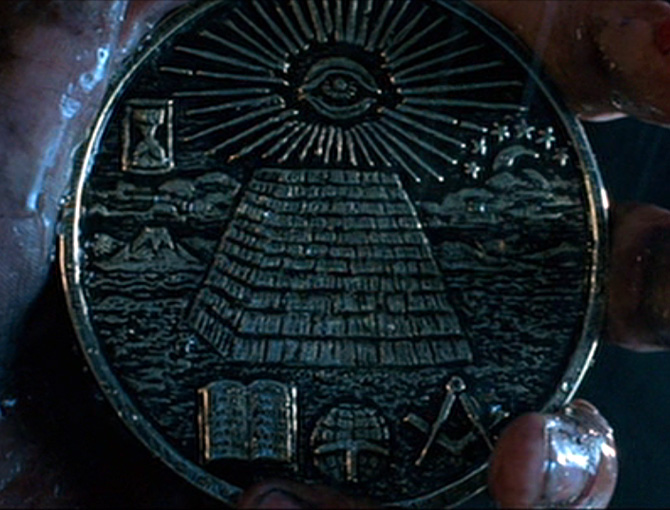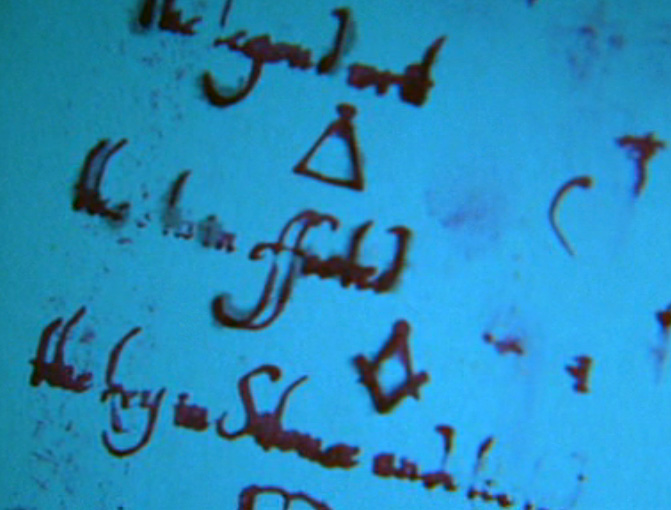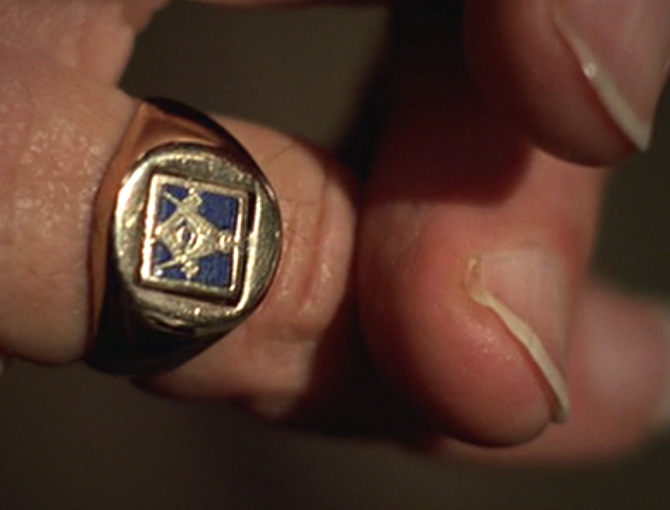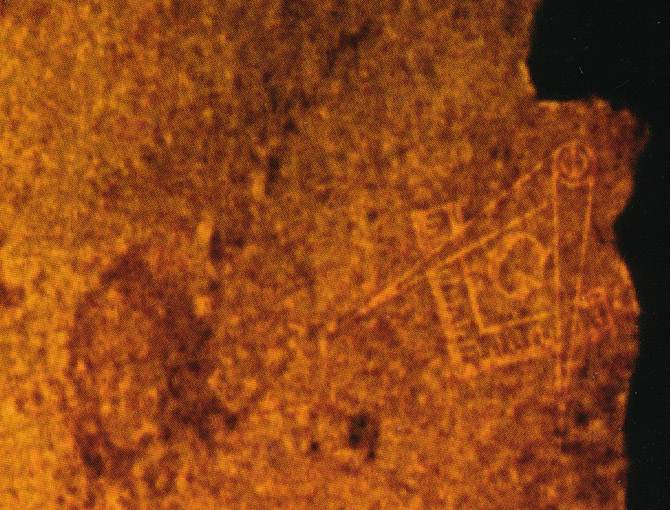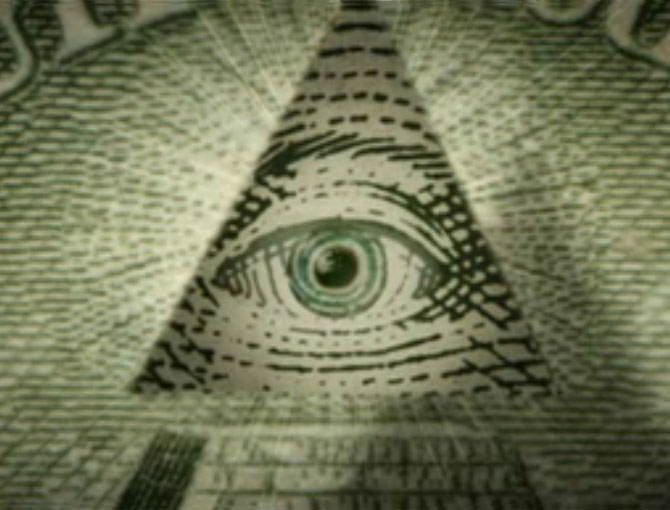 Pelicula: "Paper Moon"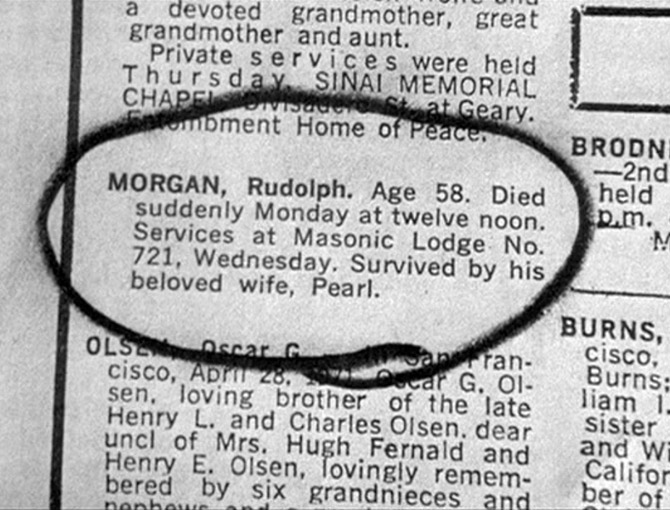 Paper Moon, es comun en EEUU poner en la tumba o esquela de un mason la insignia.

Pelicula: "Peggy Sue"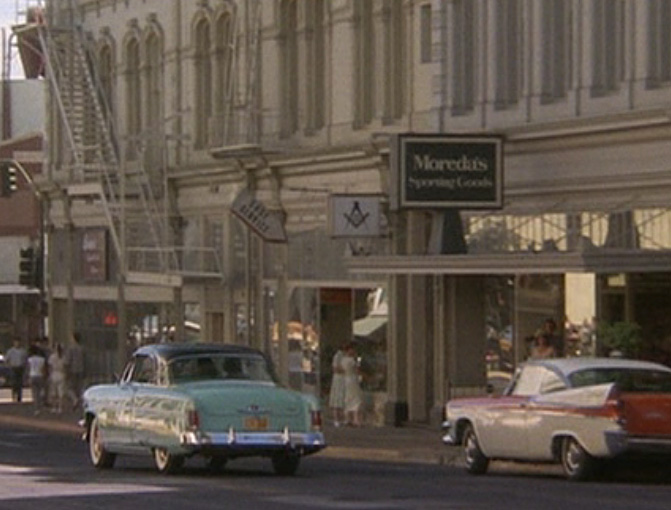 Peggy Sue, es el exterior comun de una logia americana construida antes de los 40. Normalmente el edificio pertenece a la logia. Se construian para tiendas en la planta baja para sacar dinero de las rentas y arriba la logia. Aunque la fachada tiene ventanas suelen ser falsas. La logia por dentro no tienen ventanas. Pero por fuera son ventanas realistas con pared por dentro.

Pelicula: "Rosewood"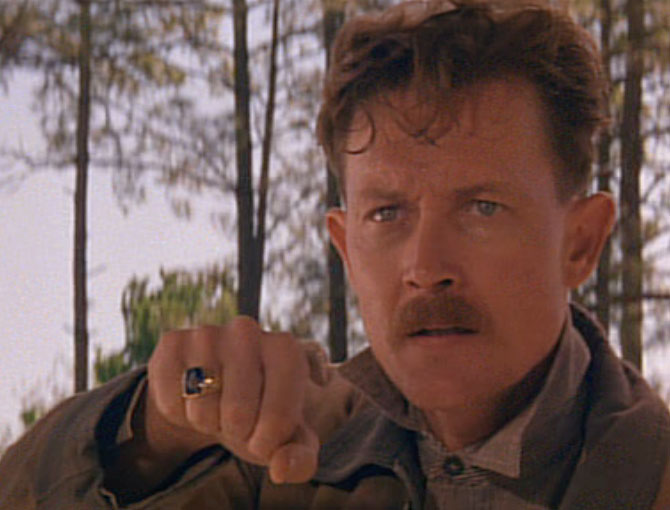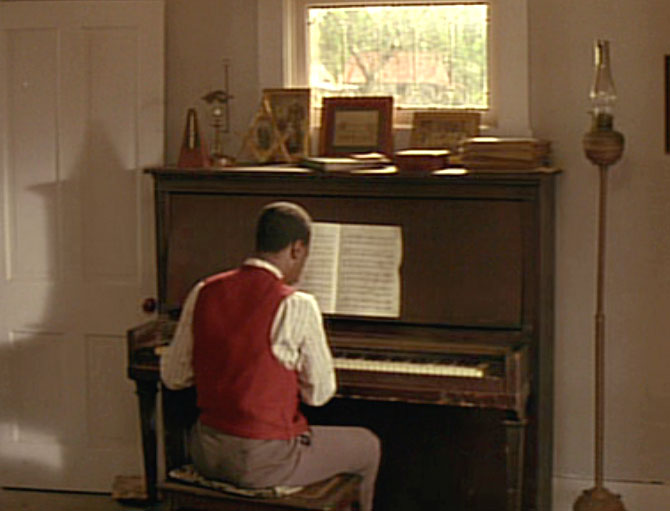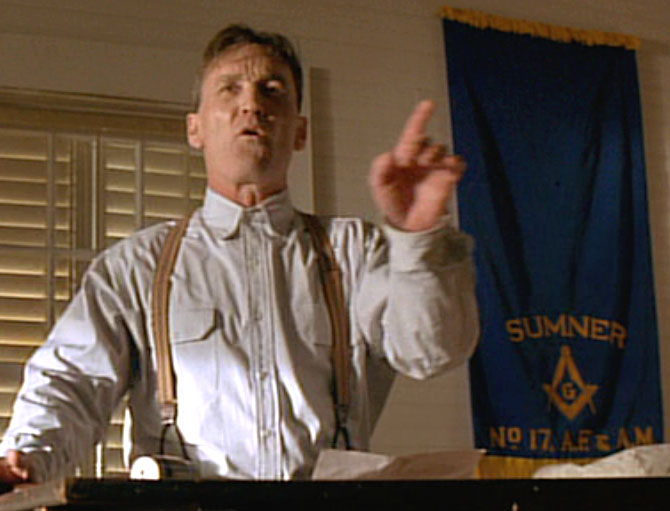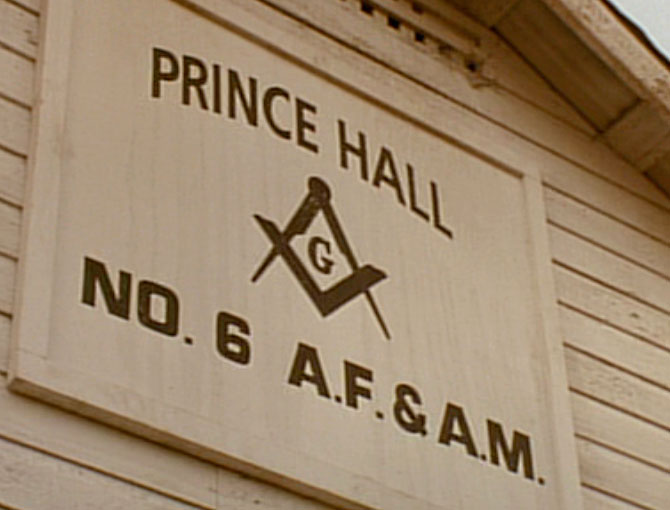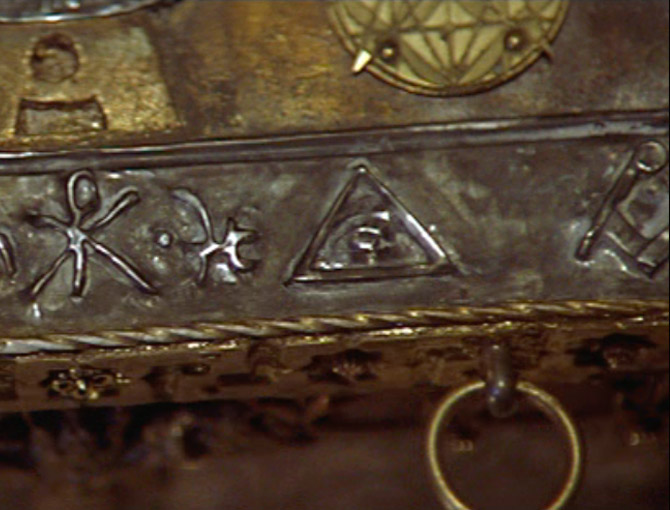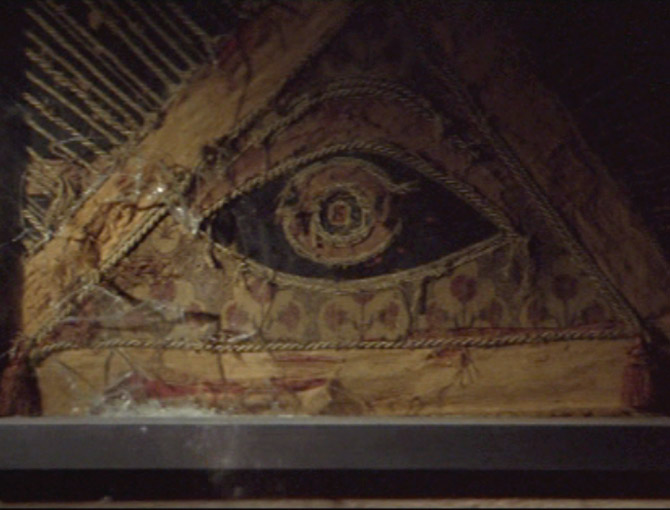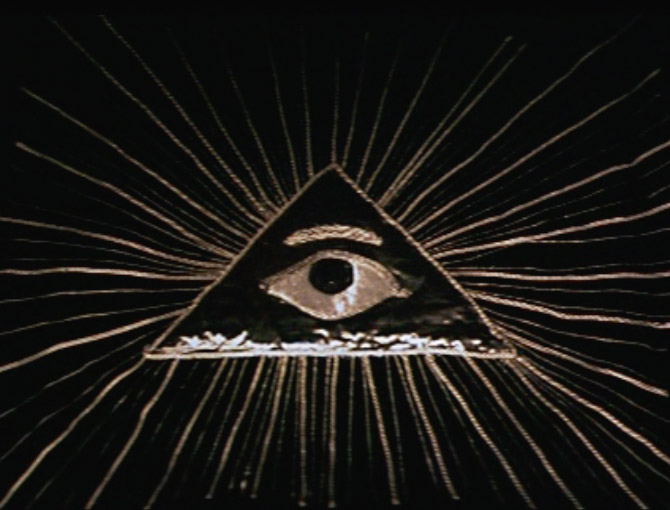 Rosewood, el letrero "Prince Hall", es la masoneria afroamericana. Despues de la guerra civil americana muchos afroamericanos quisieron entrar pero el hecho u disculpa de no haber nacido libres no les dejaban entrar. Entonces uno con el nombre de Prince Hall formo su propia logia creciendo hasta formar una Gran Logia. Hoy dia en EEUU se roconoce la existencia uno del otro pero siguen separadas aunque se aceptan visitas mutuas.

Pelicula: "Tombstone"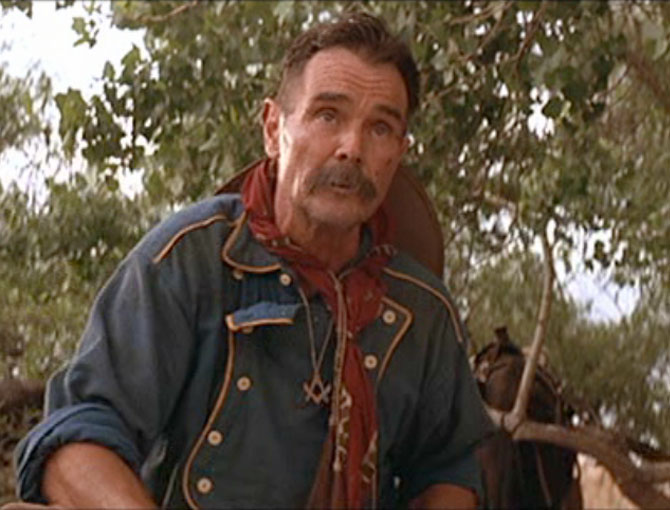 Pelicula: "U-Turn"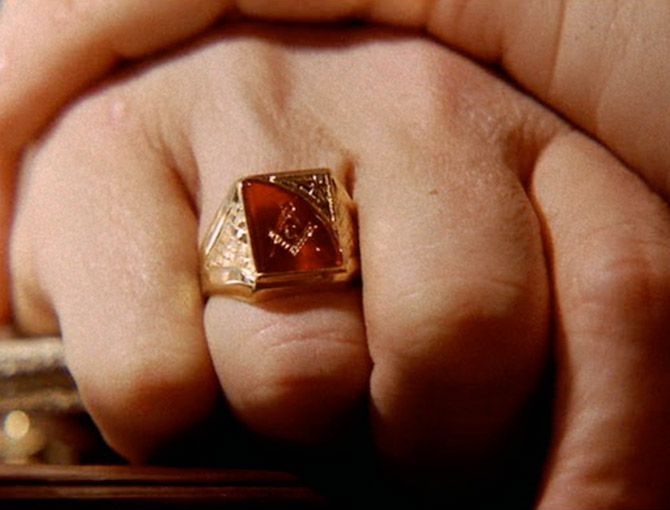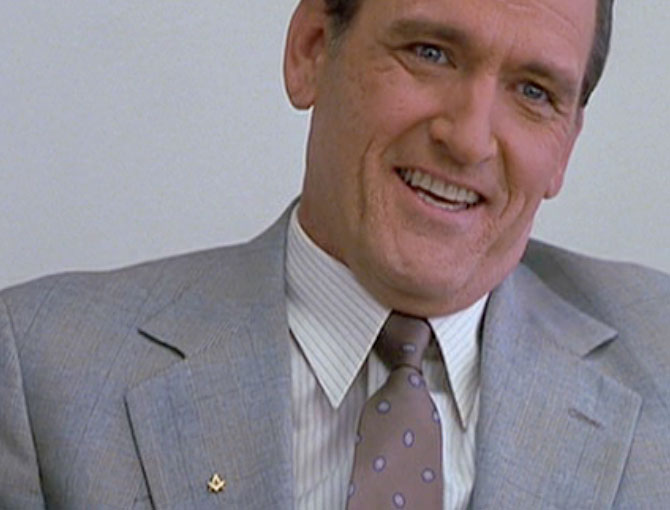 Pelicula: "What's Eating Gilbert Grape"

Pelicula: "Flash Gordon"
Flash Gordon, no tengo explicacion para el simbolo en la foto ni el de la caricatura.
October 2, 1895 - April 24, 1974 Radio, stage and screen performer William "Bud" Abbott was straight man for the popular comedy team of Abbott and Costello. Achieving their greatest success during World War Two, he and Lou Costello sold 78 million dollars in war bonds on a 31 day tour and entertained in 300 Army and Navy camps. Member
Daylight Lodge No. 525, MI Source: Masonic Service Association of North America citing Philatelic Freemason, May-June 2001
Eddie Albertson
Richard Arlen (1899-1976) Utopia No. 537, CA [19]
Cliff Arquette - Ravenwood Lodge No. 777, Chicago
Max Asher (1879- ? ) Mount Olive Lodge No. 586, CA (Keystone Kop) [19]
Gene Autry (1907-1998) Catoosa Lodge No. 185, OK [19]
September 29, 1907 - October 2, 1998 Singer, acter, producer and writer Orvon Gene Autry was the first of the singing cowboys in film and on radio, appearing in almost a hundred films and making over 600 recordings. He is also the only person to date to receive five stars on the Hollywood Walk of Fame for contributions in all five possible categories. His most lasting legacy may be for penning the perennial Christmas favorites, "Here Comes Santa Claus" (1947), "Rudolph the Red-Nosed Reindeer" (1949) and "Frosty the Snow Man" (1950). His gravestone records that he was a 33rd Degree Mason. Raised : 1927
Catoosa Lodge No. 185, Catoosa Oklahoma Source: 10.000 Famous Freemasons, William R. Denslow. Missouri : 1957.
Eddie Baker (1897-1968) Cahuenga No.513, CA (Keystone Kop) [19]
Billy Bevan (1887-1957) 233 Club, CA [19]
| | | |
| --- | --- | --- |
| | | September 29 1887 - November 26 1957 Australian-born William Bevan Harris was a prolific stage and screen actor, with a career that spanned the 1910s through 1950s. He appeared in Mack Sennett comedies during the silent era. A participant in the 233 Club, a masonic Craft degree team composed of actors, his lodge is not known. Freemason Source: Philatelic Freemason, May-June 2001. http://www.msana.com/emarchives/emjun01.htm |

Clyde Beatty (1903-1965) Craftsman Lodge No. 521, Detroit [5]
June 10, 1903 - July 19, 1965 Big game hunter, animal trainer and circus owner, Clyde Raymond Beatty—the first lion tamer to be featured in a circus—was a popular and famous figure in the mid-twentieth century. Armed only with a bull-whip, wicker chair, and a pistol strapped to his hip, at the height of his fame he would enter a cage and confront forty lions, tigers, pumas and hyenas.

He appeared in eight feature films between 1933 and 1954, numerous radio programmes and on the cover of Time magazine on 29 March 1937.

In 2004 the Clyde Beatty-Cole Bros. Circus dropped "Clyde Beatty" from its name after it terminated its elephant act.

Initiated: Craftsman Lodge No. 521, Detroit Source: Denslow, 10,000 Famous Freemasons. Image: Ring of Fear (1954).

Wallace Beery Sr. (1885-1949) Blaney No. 271, IL [19]
April 1, 1885 Ð April 15, 1949 Wallace Fitzgerald Beery was an American actor, best known for his portrayal of Long John Silver in Treasure Island (1934) as well as more than 200 other movie roles over a 36-year span. Running away from school to join a circus when he was a small boy, he later became an elephant trainer. He rarely had the opportunity to showcase his fine baritone voice during his film career. Initiated
Blaney Lodge No. 271, IL Source: 10.000 Famous Freemasons, William R. Denslow. Missouri : 1957. Image detail : No. 5 in a series of 50 from Player's Navy Cut Tobacco

Ernest Borgnine, Abingdon Lodge No. 48, Virginia [15]
| | | |
| --- | --- | --- |
| | | January 24, 1917 - Born Ermes Effron Borgnino in Hamden, Connecticut, Borgnine's career—with appearances in over one hundred feature films and three television series— began with his acting debut on Broadway playing a male nurse in "Harvey". His film career took off in 1953 when he was cast in the role of Sgt. "Fatso" Judson in From Here to Eternity (1953). Generally cast as a villain, he played against type in 1955 as Marty Piletti, a shy and sensitive butcher, in Marty (1955), winning an Academy Award for Best Actor. Between 1962 and 1966 he played Lt. Commander Quinton McHale in the popular TV series McHale's Navy. In 1984 he returned to television as Dominic Santini in the action series Airwolf, and in 1995 he was cast in the comedy "The Single Guy (1995) as doorman Manny Cordoba. When not acting, he actively supports numerous charities and speaks tirelessly at benefits throughout the country. He has periodically performed as the "Grand Clown" for The Great Circus Parade in Milwaukee, Wisconsin, since the 1970s. An active freemason, Borgnine was also the Honorary Chairman of a programme to support the Scottish Rite Childhood Language Center in Richmond. Member : Abingdon Lodge No. 48, Virginia Source : California Freemason ; Abingdon Lodge No. 48 website accessed 2007/04/12. |

Joe E. Brown (1892-1973) Rubicon No.237, OH [19]
Cantinflas (1911-1993) Mexican Lodge [19]
Mario Moreno Reyes "Cantinflas"
---
Around the World in 80 Days.
August 12, 1911 - April 20, 1993 Cantinflas, born Mario Moreno Reyes in Santa María la Redonda, was a prolific and popular Mexican comedian, film producer, writer, singer, actor, tumbler and bullfighter. He is best known in the English-speaking world for his role as Passportout in Around the World in 80 Days. "Despite the fact that Cantinflas died a millionaire several times over, and was one of the biggest stars ever in Spanish language films, he never forgot where he came from. Much of his money was given over to charitable work, including high-quality, low-income housing for Mexico City's poor. When he died, he was hailed as a national hero, and a protracted period of official mourning followed." Freemason Source: Philatelic Freemason, May-June 2001. www.msana.com/emarchives/emjun01.htm.
Quotation : www.imdb.com/name/nm0134594/bio (2006/08/26).
Also see : Who's Who in Comedy, Ronald L. Smith. pp. 88-89. New York: Facts on File, 1992. ISBN 0816023387.

Eddie Cantor (1892-1964) Munn Lodge No. 190, New York [15]
Glen Cavender (1887-1962) Mount Olive No.586, CA (Keystone Kop) [19]
Chester Conklin (1888-1971) University No.394, CA (Keystone Kop) [19]
Charles Correll (Amos) - Trio Lodge No. 57, Chicago
Donald Crisp (1880-1974) Harry S. Orme No.458, CA [19]
William DeBeck - North Shore Lodge No. 936, Chicago
Cecil B. DeMille (1881-1959). Prince of Orange Lodge No. 16, NY
| | | |
| --- | --- | --- |
| Sunset Boulevard (Paramount, 1950) | | August 12, 1881 - January 21, 1959 Director, producer, writer and actor, Cecil Blount DeMille formed an alliance with vaudeville musician, Jesse L. Lasky, and a glove salesman named Samuel Goldfish (later Goldwyn) called the Jesse L. Lasky Feature Play Company in 1913. In time he would be called "the founder of Hollywood", "the world's greatest director" and "the showman of showmen". A prodigeous producer during the silent era, he continued to discover stars in the sound era such as Evelyn Keyes, Francesca Gaal, Paulette Goddard, Gary Cooper, and Charlton Heston. He later appeared in front of the camera, playing himself in Sunset Boulevard (Paramount, 1950). He produced and directed The Greatest Show On Earth (Paramount, 1952), winning an Academy Award for best picture. His remake of The Ten Commandments (Paramount, 1956), his last film, was as big a hit as his original, 1923 version. Initiated: Prince of Orange Lodge No. 16, New York |

Richard Dix (1894-1949) Harry S. Orme No. 458, CA [19]
Douglas Fairbanks, Sr. (1883-1939) Beverly Hills No.528, CA [19]
W.C. Fields, (1880-1946) E. Coppee Mitchell Lodge No. 605, Philadelphia [15]
| | | |
| --- | --- | --- |
| | | January 29, 1880 - December 25, 1946 Vaudevillian, juggler, writer and star of stage, radio, silent film and talkies, William Claude Dukenfield created a lasting American comic persona: a misanthrope on the edge of buffoonery, an egotist blind to his own failings, a charming drunk; and a man who hated children, dogs, and women. Although the impression that this persona was a reflection of his real life was maintained by movie-studio publicity departments and further established by Robert Lewis Taylor's 1949 biography, W. C. Fields, His Follies and Fortunes, the publication of Fields' letters, photos, and personal notes in grandson Ronald Fields' book W.C. Fields By Himself, has shown a far more caring person. E. C. Mitchell Lodge No. 605, PA Source: Philatelic Freemason, May-June 2001, cited by http://www.msana.com/emarchives/emjun01.asp |
May 1, 1916 - August 30, 2006 Born Gwyllyn Samuel Newton Ford in Sainte-Christine, Quebec, actor Glenn Ford appeared in 106 films and several television series. For his military service, he has received the French Legion of Honour Medal in 1992 for his service in World War II, the Medal of Honour, presented by the Veterans of Foreign Wars, the Medaille de la France Libre for the liberation of France, two commendation medals from the US Navy, and was inducted into the Vietnamese Legion of Merit. More than half of his movie appearances were in westerns but Ford played equally well in light comedies and film noir, and was voted the number one male box office attraction in 1958. He was inducted into the National Cowboy Hall of Fame by the Western Heritage Museum in 1978. Initiated:
Palisades Lodge No. 637
(now Santa Monica Palisades No. 307)
Charter member:
Riviera Lodge No. 780, Pacific Palisades, California
Source: Grand Lodge of California.

Clark Gable (1901-1960) i. 1933, Beverly Hills Lodge No.528 CA [15]
Hoot Gibson
John Gilbert (1895-1935) Lodge Unknown [19]
Arthur Godfrey. (b. 1903) Acacia Lodge No. 18, Washington, DC [14]
August 31, 1903 - March 16, 1983 American variety show host, Arthur Godfrey, ranks as one of the important stars of the early years of American television. A radio announcer and entertainer for WFBR in Baltimore, Maryland, in 1930, he became an announcer for NBC in Washington, D.C. from 1930 to 1934 before joining CBS Radio in 1945 as host of Arthur Godfrey's Talent Scouts. He then hosted Arthur Godfrey's Talent Scouts on CBS television from 1948 to 1958 while also hosting Arthur Godfrey and His Friends from 1949 to 1959. He returned to national radio as host of Arthur Godfrey Time from 1960 to 1972. Godfrey also starred in the films Four For Texas (1963), The Glass Bottom Boat (1966) and Where Angels Go... Trouble Follows (1968). Politically conservative, he became a vocal environmentalist in later years as a member of the ASCAP, the National Advisory Committee on Oceans and Atmosphere, and the Citizen's Advisory Committee on Environmental Quality. Raised: 1937
Acacia Lodge No. 18, Washington, DC Source: American Mason. Andrew Boracci, ed.. Sag Harbor, NY. (1997- ) aboracci@optonline.net.

Freeman Gosden (Andy) - Petersburg Lodge No. 15, VA
David W. Griffith (1874-1948) St. Cecile No.568, NY [19]
David Llewelyn Wark Griffith
---
January 22, 1875 - July 21, 1948 D.W. Grifith was a pioneering American film director, perhaps best remembered for his controversial film, The Birth of a Nation (1915), whose distorted view of the American Civil War Reconstruction period precipitated the 1920s revival of the Ku Klux Klan. He also directed the films Abraham Lincoln (1930), Orphans of the Storm (1921), Way Down East (1920), Broken Blossoms (1919), Intolerance: Love's Struggle Through the Ages (1916) and An Unseen Enemy (1912). Initiated:
St. Cecile Lodge No. 568, New York Source: uncited.

Oliver Hardy (1892-1957), Solomon Lodge No. 20, Florida [15]
January 18, 1892 - August 7, 1957 A cabaret and vaudeville singer, Oliver Norvell "Babe" Hardy made his first movie, "Outwitting Dad", in 1914. In 1917 he played a bit part in "Lucky Dog", starring his future comedy partner Stan Laurel, although it was not until 1927, in "Sugar Daddies" (1927), that they formed their onscreen partnership that was to last until Utopia in 1951. Hardy's screen character was noted for his genteel pomposity, his tie twiddle, and long suffering look while dealing with Stan's character and his well-meaning but ultimately frustrating on screen antics. Oliver Hardy's ashes were interred in the Masonic Garden of Valhalla Memorial Park in North Hollywood. Laurel and Hardy appeared live on a 1954 episode of This Is Your Life where Hardy's masonic membership is noted. Initiated: ?
Solomon Lodge No. 20. Jacksonville, Florida Source: John Hamill, et al, Freemasonry : A Celebration of the Craft.. JG Press 1998. ISBN:1572152672.

William S. Hart (1862-1946) Lodge Unknown [19]
Jean Hersholt
DeWolf Hopper (1858-1935) Pacific No.233, CA [19]
Harry Houdini, i. Aug 21, 1923, St. Cecile Lodge No. 568, New York
April 16, 1874 - October 31, 1926 Born Erich Weiss, Harry Houdini was a world famous escape artist and trapeze performer, as well as the inventor of the diving suit, and the first successful aviator in Australia. Houdini was not alone among masonic magicians, a group which included such notables as Harry Keller, Howard Thurston, and Harry Blackstone. His untimely death has been the topic of much folklore: his burst appendix was not caused by an earlier blow to his stomach nor did he collapse on stage. Initiated: July 17, 1923
Passed: July 31, 1923
Raised: August 21, 1923
St. Cecile Lodge No. 568, New York

Al Jolson (1885-1950) St. Cecile No.568, NY [19]
Buck Jones (1888-1950) Harry S. Orme No.458, CA [19]
Emmott Kelly
Fred Kelsey (1884-1961) Mount Olive No.586, CA [19]
Wayne King, Paul Revere Lodge No. 998
Harold C. Lloyd (1893-1971), i.1925, Hamilton Lodge No. 535, Hollywood [15]


April 20, 1893- March 8, 1971 Silent screen actor, comedian and producer, Harold Lloyd was an active Shriner. As Imperial Potentate of North America in 1949, he appeared on the cover of the July 25, 1949 Time Magazine with its accompanying cover story entitled The World of Hiram Abif. He was later elected President of the Shriners Hospital Corporation in 1963 as well as Chairman of the Board of Trustees He arrived in Los Angeles in 1912, shedding his grotesque comedy clothes and characterizations for a pair of horn-rimmed glasses in 1917. In doing so, Lloyd created an American archetype in a motion picture career, which spanned 34 years and over 200 comedies. Among his most famous films are Grandma's Boy (1922), Safety Last! (1923), The Freshman (1925), The Kid Brother (1927), Speedy (1928), and Movie Crazy (1932). Lloyd was also a prize-winning stereo (3-D) photographer. He produced two compilation films of his earlier work, Harold Lloyd's World of Comedy (1962) and Harold Lloyd's Funny Side of Life (1963), and was preparing further revivals of his best films before succumbing to cancer on March 8, 1971 at the age of 77. Initiated: 1925
Alexander Hamilton Lodge No. 535, Hollywood

Hank Mann (1877-1971) Mount Olive No.586, CA [19]
Harpo Marx
| | | |
| --- | --- | --- |
| | | November 23, 1888 - September 28, 1964 Born Adolph, he changed his name to Arthur during World War I but was known professionally as Harpo. The second oldest of the four Marx brothers comedy team, Harpo rarely if ever spoke while in character but was renowned as a mime and harpist. His ready wit was recognized with his inclusion as a member of the Algonquin Round Table in New York. Freemason Source: Freemasons Who Made a Difference. Image : 1936 newsreel, New York. |

Tom Mix (1880-1940) Utopia No.537, CA [19]
January 6, 1880 - October 12, 1940 One time bartender, cow hand and Texas Ranger, Thomas Edwin Mix was a superb marksman and rider who went on to become arguably the most important cowboy film star in Hollywood's history. Mix's career in movies famous for quick action and dare-devil stunts spanned 26 years from 1909 through 1935. Making 336 feature films, producing 88, writing 71 and directing 117, he made only nine sound feature films and the 15 chapter serial Miracle Rider before leaving film to tour with the Tom Mix Circus from 1936 to 1938. Dying in an auto accident in 1940, he remained popular on radio and in comic books for more than a decade after his death. Mix was an active freemason, joining both the Royal Arch and Scottish Rite while also participating in the 233 Club, a Craft degree team composed of actors. Raised: February 21, 1925
Utopia No. 537, California


Audie Murphy (1924-1971) North Hollywood No.542, CA [19]
June 20, 1924 - May 28, 1971 Audie Murphy was the most decorated U.S. combat soldier of World War II. After the war he moved to Hollywood; his first starring role came in a 1949 released film called Bad Boy. He went on to star in 44 feature films over the next 25 years. His 1949 autobiography To Hell And Back was a best seller. Murphy starred as himself in the 1955 film version which held the record as Universal's highest grossing picture until 1975 when it was finally surpassed by Jaws. He was also a successful thoroughbred and quarterhorse racehorse owner and breeder, having interests in such great horses as "Depth Charge." Audie Murphy wrote some poetry and was quite successful as a songwriter. In a effort to draw attention to the problems of returning Korean and Vietnam War veterans, Audie Murphy spoke out candidly about his personal problems with PTS, then known as "Battle Fatigue". Raised: 1950
Hollywood Lodge No. 542, North Hollywood, Calif.

Conrad Nagel
Dick Powell (1904-1963) Ascot Lodge No. 538. Los Angeles [5]
| | | |
| --- | --- | --- |
| | | November 14, 1904 - January 2, 1963 Richard Ewing Powell was a 1930s singing star for Warner Bros. who went on to become a popular leading actor in the 1940s and later a television producer and director. He also starred in two popular 1940s radio series "Richard Diamond, Private Detective" and "Rogue's Gallery." Powell was one of the founders of Four Star Television, hosting "Four Star Playhouse" (1952-56), "Dick Powell's Zane Grey Theatre" (1956-62), and "The Dick Powell Show" (1961-63) Member : Ascot Lodge No. 538, Los Angeles Source : Denslow, 10,000 Famous Freemasons. p. 362 vol iii. |
| | | |
| --- | --- | --- |
| | | May 2, 1869 - 23 December 23, 1931 Frederick Tyrone Power, grandson of legendary Irish actor William Grattan Tyrone Power (1797-1841) and father of Tyrone Edmond Power, (1914-1958), made his stage debut in 'The Private Secretary' in 1886. He toured the USA, Britain, and Australia in theatrical tours, becoming a famed matinee idol and calling himself Tyrone Power II and Tyrone Power the Younger. In 1912, he was acclaimed for his Brutus in Julius Caesar. In 1914, he entered films and played leading roles until age moved him into often villainous character roles. Member : Howard Lodge No. 35 New York Source : 10,000 Famous Freemasons, William R. Denslow. Image: Stars of the Photoplay, 1916. |

Richard Pryor (1940-2005) Henry Brown Lodge No. 22, Peoria, IL [30]
December 1, 1940 - December 10, 2005 The first recipient of the prestigious annual Mark Twain Humor Prize in 1998, Richard Franklin Lennox Thomas Pryor III was an influential and popular American comedian. A veteran of 40 films between 1967 and 1991, he has been featured in four films, Live and Smokin', Richard Pryor Live in Concert, Richard Pryor Live on Sunset Strip, and Here and Now. His recordings have earned him two platinum albums, five gold albums, and five Grammys. Freemason : Henry Brown Lodge No. 22, Peoria, IL
Source : The Phylaxis. Boston : The Phylaxis Society, 1981. Third Quarter p. 58.

Roy Rene (1892-1954) Thespian No.256, NSW Australia [19]
Michael Richards (1949- ) Riviera No.780, CA (Seinfeld) [19]
Don Rickles
May 8, 1926 - Donald Jay Rickles, born in New York City, is an American comedian, film actor, and voice actor. A frequent Tonight Show television talk show guest in the 1960s and 1970s, he built a popular nightclub act and became famous for insulting his audience. Raised : June 6, 1953
Service City Geba Lodge No. 1009, Astoria, New York Source: http://www.cinosam.net/biographies.pdf accessed 2007/02/08.

Paul Robeson (1898-1976) "at sight" [19]
Jimmie Rodgers (1897-1933) John L. Spinks No.507, MS [19]
Roy Rogers (1912-1998) Hollywood No.355, CA [19]
Will Rogers (1879-1935) Claremore No.55, OK [19]
November 4, 1879 - August 15, 1935 William Penn Adair Rogers was educated early in his life mostly at Indian territory schools. He began his show career in 1902, when he was "The Cherokee Kid" with Texas Jack's Wild West Show in South Africa. A syndicated, daily columnist for 400 newspapers worldwide, Hollywood's biggest box office star for more than a decade as the star of over 70 films, host of the country's most popular radio program, author of over six books, aviator, star in the popular Zigfield Follies Show, famous for rope tricks and a popular wit, Rogers was a loving husband and father of four. He is remembered as a humanitarian, often using his popularity and position to raise money for those in need. He is often referred to as the "Cowboy Philosopher." Initiated: Feb 18, 1905
Passed: March 10, 1906
Raised: March 13, 1906
Clairmont Lodge No. 53, Oklahoma

Charles P. "Chic" Sale - Urbana Lodge No. 157, Urbana, IL
August 25, 1885 - November 7, 1936 American humorist and vaudeville actor, "Chic" later appeared in motion pictures as a character actor, including The Star Witness; The Expert; and When a Fellow Needs a Friend. In 1929 he published a small book entitled The Specialist, an humorous account concerning outdoor toilets, which sold over 200,000 copies in three months and is still in print. Raised: Aug. 29, 1918
Urbana Lodge No. 157, Urbana, Illinois Source: Denslow, 10,000 Famous Freemasons.
The sons of German-born harness maker August Rüngeling, the Ringling brothers founded the Ringling Brothers Circus in 1884. Conceived by Albert and headed by John, August T. had little involvement in the circus. They were all members of Baraboo Lodge No. 34 in Baraboo Wisconsin. The minutes of a special meeting on April 8, 1891 show the regular officers opening the lodge then the following taking the chairs: WM: Af T. Ringling, SW: August, JW: Al, SD: Charles, JD: Otto, SS: Henry. Their father (d. 1898) was Raised on August 19, 1891.
| | | | |
| --- | --- | --- | --- |
| | Alfred T. | 1861-1919 | r. January 22, 1890 |
| | John Nicholas | 1866 - 1936/12/2 | r. March 1, 1890 |
| | Albert Charles | 1852-1916 | r. March 29, 1890 |
| | Charles Edward | 1866-1926 | r. April 9, 1890 |
| | William H. Otto | 1858-1911 | r. April 9, 1890 |
| | August George | 1854-1907 | r. February 4, 1891 |
| | Henry William George | 1868-1918 | r. March 18, 1891 |

Peter Sellers (1925-1980) Chelsea No.3098, E.C. Great Britain [19]
| | | |
| --- | --- | --- |
| | | September 8, 1925 - July 24, 1980 Born Richard Henry, but called Peter by his parents in memory of an older brother, Peter Sellers was a major entertainment presence in the 1960s and 70s, appearing in over 60 films as well as on numerous radio and television shows. One of the BBC Radio comedy team on The Goon Show (1951-1960), Peter Sellers had his first major film role in I'm All Right Jack(1959). He is remembered for his Oscar nominated multiple roles in Stanley Kubrick's Dr. Strangelove (1964), his role in Woody Allen's first film What's New Pussycat (1965), and his character, Inspector Clouseau in six Pink Panther movies directed by Blake Edwards. His portrayal of Chauncey Gardener in Being There (1979) gave him his second Oscar nomination. His cover of the Beatles' 'A Hard Day's Night' released in 1965 reached 14 on the UK pop charts. Raised: Chelsea Lodge No. 3098, London Source: Philatelic Freemason, May-June 2001. Cf. Emessay Notes June 2001. |

"Red" Skelton (1910-1997) Vincennes No.1, IN [19]
Richard Bernard "Red" Skelton
---
July 18, 1913 - September 17, 1997
"Good night, and may God bless." The son of a former circus clown vaudevillian, comedian Red Skelton left home at ten to travel with a medicine show through the Midwest, and joined the vaudeville circuit at fifteen. He debuted on Broadway and radio in 1937 and on film in 1938. "The Red Skelton Show" premiered on NBC in 1951. For two decades, until 1971, his show consistently stayed in the top twenty, both on NBC and CBS. One stand-up comedy routine, "A wee dog", is reputed to be of especial interest to freemasons. Skelton was a major supporter of children's charities, including the Shriners' Crippled Children's Hospital and the Red Skelton Foundation in Vincennes, Indiana. Raised: September 20, 1939
Vincennes Lodge No. 1, Indiana Source: Scottish Rite Journal

Frank Skinner - Benevolent lodge No.52, Meredosia, IL
Leo Slezak (1873-1940) Lodge Unknown [19]
Danny Thomas
January 6, 1914 - February 6, 1991 Born Muzyad Yakhoob in Dearborn, Michigan, and later known as Amos Jacobs, Danny Thomas was best known for his television portrayal of Danny Williams on Make Room For Daddy. He appeared in many films and television shows, and partnered with Sheldon Leonard and Aaron Spelling to create shows such as The Dick Van Dyke Show, The Andy Griffith Show, and The Mod Squad. Danny Thomas also founded the St. Jude's Children Research Hospital in Memphis in 1962 and raised $12 million annually to keep it operating. Brother Thomas' initiation on March 15, 1984 led to a brief withdrawal of recognition by the Grand Lodge of California of the Grand Lodge of New Jersey from August 29, 1984 to October 19, 1984, as Thomas was a resident of California at the time. This incident did not prevent him from going on to be an active Shriner and to publicly speak glowingly about Freemasonry. Initiated: March 15, 1984
Grand Lodge of New Jersey Source: Freemasons Who Made a Difference

Hal Brent Wallis - Prudence Lodge No. 958, Chicago
John Wayne (1907-1979) r. 1970/07/11, Marion McDaniel No.56, AZ [19]
May 16, 1907 - June 11, 1979 Born Marion Morrison, "the Duke" appeared or starred in over 200 films in his fifty-year career, winning an Oscar for "True Grit," in 1969. Remembered for his definition of the American individualist of a mythical wild west, he came to represent America to several generations of movie-goers. A Member of Glendale DeMolay Chapter during his high school days, Duke was also a freemason, like his father before him, receiving his Craft degrees in July 1970 in Marion McDaniel Lodge No. 56, Tucson, Arizona. A Senior DeMolay, he was also awarded the DeMolay Legion of Honor in 1970. In December of that year, he joined the York Rite Bodies in California and became a Shriner in Al Malaikah Shrine Temple. Initiated : July 9, 1970
Passed : July 10, 1970
Raised : July 11, 1970
Marion McDaniel Lodge No. 56, Tucson, Arizona, Source: kena.org/hirams/1998/PHL-DE98.HTM ; lodge records.

Billy Wilder
Chill Wills
| | | |
| --- | --- | --- |
| | | 18 July 1903 - 15 December 1978 Character actor, as well as a musician, "Chill" performed from the age of twelve with tent shows, in vaudeville, and with theatre stock companies. He formed a musical group, Chill Wills and his Avalon Boys, performing until 1937 when he began a solo career as a character actor, primarily in westerns. Appearing in 112 films, he was nominated for an Oscar for his supporting role in The Alamo in 1960. Wills also supplied the voice of Francis the Talking Mule in the popular 1950s movie series. Freemason Source: Freemasons Who Made a Difference. |

Jonathan Winters
Ed Wynn (1886-1966) Philadelphia No.9, PA [19]
| | | |
| --- | --- | --- |
| | | November 9, 1886 - June 19, 1966 Born Isaiah Edwin Leopold, Ed was billed in vaudeville and the Ziegfeld Follies as "the Perfect Fool." More a clown, than a comedian in style, he later developed as a character actor. Host of a variety series, "The Ed Wynn Show" (1949), and later star of a situation comedy show, "The Ed Wynn Show" (1958-1959), Wynn is perhaps best remembered for his role as Uncle Albert in "Mary Poppins" (1964) as well as the likeness and voice of the Mad Hatter in Walt Disney's animated "Alice in Wonderland" (1951). He received a Best Supporting Actor Oscar nomination for his role as Mr. Albert Dussell in "The Diary of Anne Frank" (1959). The epitaph on his niche at Forest Lawn, Glendale, California reads: "Dear God, Thank You." Member: Philadelphia Lodge No. 9, Pennsylvania Source: Philatelic Freemason, May-June 2000. Photo: Twilight Zone Episode 132, Season 5, December 20, 1963. |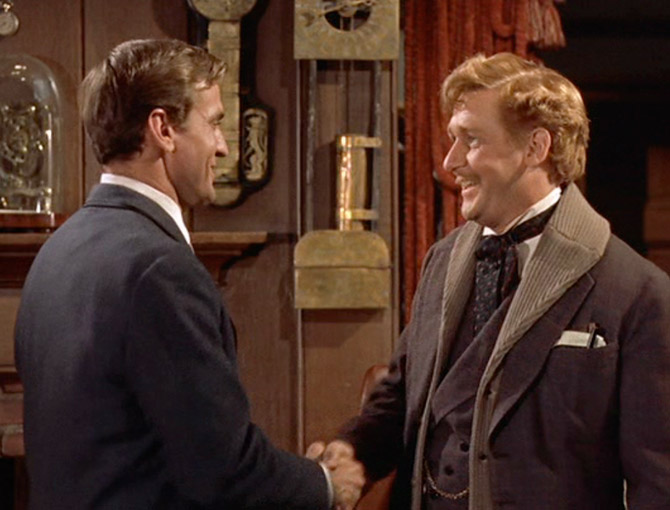 The Time Machine (1960)
Based on H. G. Wells' 1895 novel. David Filby, played by Alan Young, says to George Wells, played by Rod Taylor: "George, I speak to you as a friend, and even more, as a brother...." although the characters are not related. This line does not appear in the novel. Filby and his four friends all wear watch fobs but none are seen in enough detail to determine if they are masonic. Referring to a hypothetical time traveller, George alludes to another H. G. Wells novel when he earlier says, "Can he change the shape of things to come?" The Time Machine (1960). Rod Taylor, Alan Young, Yvette Mimieux, Sebastian Cabot. Directed by George Pal, written by H.G. Wells (novel), David Duncan. 103 min. USA, English. Metrocolor, Stereo.

Darryl F. Zanuck - Mount Olive Lodge No. 506, Los Angeles
Florenz Ziegfeld, Jr. - Accordia Lodge No.277
Adolph Zukor - Centennial Lodge No. 763, New York, NY
Comentarios:
En la pelicula como "Agua para Chocolate" hay una escena que estan en un funeral chequéenlo.